Advertise with
May in Montclair

in 2018
Celebrating our 40th year!
"May in Montclair" is a month-long festival of art shows, concerts, garden tours,
health and exercise programs, and blooms galore showcased
to make people feel good about living, working, shopping and spending leisure time in Montclair.
We understand that competition is stiff to garner your advertising dollars in the spring - so many great events around town, all clamoring for your support.
Why advertise in MAY IN MONTCLAIR?
We can promise low rates, wide distribution, and print and digital visibility. But most of all, we hope you choose to advertise with MAY IN MONTCLAIR because marketing dollars spent with us can do something no other venue can promise – make our town more beautiful!
Over 30,000 tulip and daffodil bulbs were planted in public spaces last fall. It made for a spectacular spring bloom. Every single blossom made possible by donations, advertisers, and the hard work of volunteer planters. This year, as we honor our 40th publication, our goal is to plant 40,000 bulbs. Can you imagine how spectacular that will be?
Please join us and celebrate the vision of the original MAY IN MONTCLAIR volunteers, who knew, back in 1979, that a few dollars from each of us, could mean a beautiful, community-centered month of May for our town. Reserve your space by purchasing an ad below, or return the downloadable order form. We have moved our publication date up this year so that the May in Montclair book can be distributed in early April. Deadline for all ad copy is December 15th.
Don't delay! Send in your ad order today.
WE ARE NO LONGER ACCEPTING ADS for the 2018 Calendar of Events
HERE'S WHAT WE NEED:
NEW PRINT and BANNER ADS can be e-mailed to advertising@mayinmontclair.org or sent on a disk. We can accept any of the following electronic files: EPS, Tiff, Illustrator, PDF, and InDesign. For InDesign, please be sure to include on the disk all fonts and images used in the document. (No Word Documents, Powerpoint or Publisher files please.) If e-mailing, indicate this on your Advertising Order Form and mail with your payment. You will receive acknowledgement via e-mail.
LINK YOUR AD TO YOUR WEBSITE: For a fee of $10, we will link your business name in our online directory of advertisers to your website. Please indicate your interest in this service and note your website.
PURCHASE A BANNER AD ON THE MAY IN MONTCLAIR WEB SITE and we'll give you the text link above for free! Banner ads appear on the Calendar and event pages and rotate placement on the home page. The fee is only $75, but you must also purchase a print ad to be eligible. Banner ads must be 728x90 pixels in either .JPG or .PNG format.
NEW FOR 2018 - PURCHASE A FULL PAGE AD and we'll place a customized marker in a flower bed next spring to show your support.
Confused? Don't panic. For an hourly fee we can help you design your ad. General questions? Call Karen at 201-970-8115. Call Dani regarding design issues only at 973-851-8850.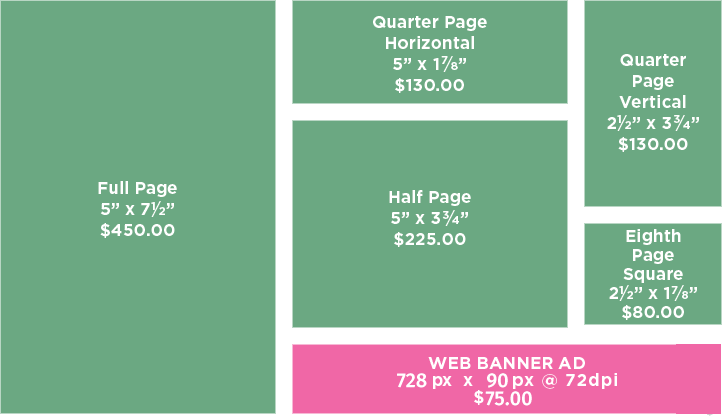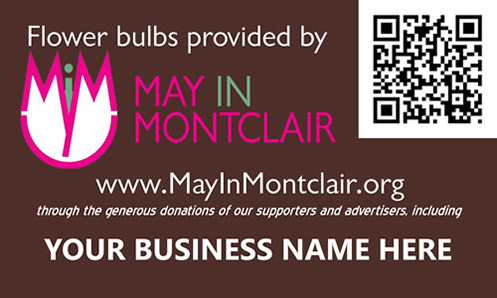 Purchase a full page ad and we'll place a customized marker in a flower bed next spring to show your support.